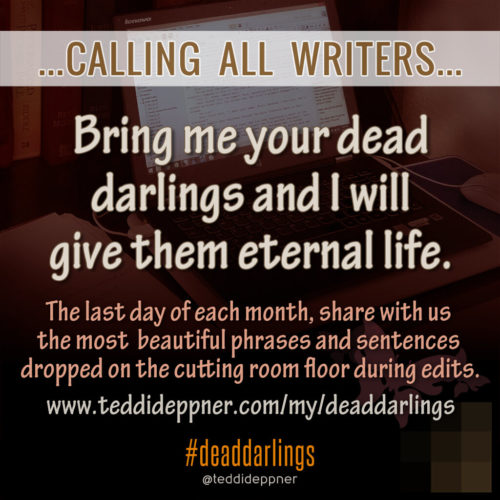 We've heard it so many times, that quote from Stephen King:
Kill your darlings, kill your darlings, even when it breaks your egocentric little scribbler's heart, kill your darlings.
Well, today I'm here to offer those beautiful little bits of writing a second chance at life. And not just life, but life everlasting. Well, as everlasting as the Internet, that is.
On the last day of each month, I will post on my blog some of my "dead darlings" and invite you to share yours. So as you do your edits throughout the month, save them aside — or just come on over and add them to the comment section of the latest month's dead darlings post.
My Dead Darlings
Here's a few bits that I've left on the cutting room floor, though I thought they were clever when I first wrote them:
The smell of cinnamon pinecones. The sparkle of glitter that made its way into each wrinkle of your coat, the strand of tinsel clinging to the cuff of your pants, whether or not you'd touched a single decoration in the past twenty-four hours.
She couldn't raise a Jewish child around goyim who didn't respect her people, their traditions. Amelia had always defended a woman's right to choose, no question. But she arranged her own life at every step so that she would never face that choice.
A significant blood trail led from his seat to the pillaged medkit. Oh, snicks and rutting nesters!
Post some of yours in the comments below!
Pssssst. Spread the word.
To make this even more fun, share this post on Twitter or Facebook and tag all your writer friends.
I want to see ALL the dead darlings! *rubs hands together in morbid glee*