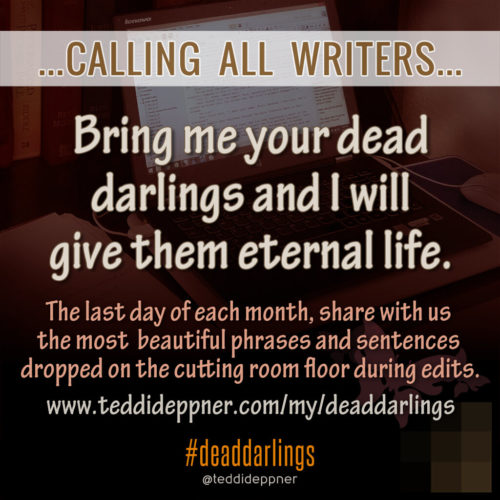 Stephen King's clarion call to writers lives on:
Kill your darlings, kill your darlings, even when it breaks your egocentric little scribbler's heart, kill your darlings.
Let's celebrate the death of these overly beautiful descriptions, the excising of our explanatory exposition, the bits and bobs that got cut from the final version of our stories.
On the last day of each month, I will post on my blog some of my "dead darlings" and invite you to share yours. As you edit your work throughout the month, save these bits! Or just come on over and add them to the comment section of the latest month's dead darlings post.
(I'm actually a bit late for October's last day, but I'm back-dating this post for consistency's sake.)
My Dead Darlings
I've been lied to all my life. For some, it was self-preservation. For most, it was self-seeking and power-grabbing. I don't like liars. I killed most of them. But the lie I never expected, the one that unmade me, was the lie told by the one who Made me. The one who raised me. Who gave me everything I ever needed and more than I ever wanted. Who fed me with his own blood and told me he lived to see me on the throne of the underworld. Must I say his name? My father and Overlord of the New World, Sargassus.

…
The dancers looked at me like they wanted to eat me alive and well, I found out later that's pretty much exactly what they wanted to do. But I didn't know that. And that's good, because I think my voice would have dried up like a prune and only a pitiful squeak would have come out if I'd known what they were thinking.

…
The Agency's science geeks call us lycanthropes. Lycan, werewolf — whatever. A rose by any other name still wouldn't smell as well as I do.
Post some of yours in the comments below!
Pssssst. Spread the word.
To make this even more fun, share this post on Twitter or Facebook and tag all your writer friends.
Let's honor the fallen phrases, the lost alliterations, the retired repetitions. Our stories are better without them, but that doesn't mean they aren't worth a final salute!