Changing the Dead Darlings schedule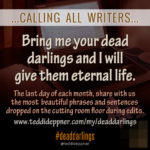 I posted a meme a while back declaring that I would give your dead darlings eternal life here on my site. Originally, I thought to post about it at the end of each month.
But every month was too often.
So we're going to target something a little less frequent (and more intriguing). After rejecting the idea of doing every Friday the 13th (which was the first thing that springs to mind when we're talking about the dead), I decided we'd share our lost loves whenever there was a super moon, since these happen about 3-4 times a year.
What's a Super Moon?
A "super moon" is when the moon is closest to the earth (which sometimes makes it appear slightly larger in the sky).
The Supermoon on November 14, 2016, was the closest (356,509 km from Earth) since January 26, 1948 (356,460 km). The next time a Full Moon will come even closer to Earth is on November 25, 2034 (356,445 km, dates based on UTC time).
New schedule for Dead Darlings posts
Thursday, May 25 (new Moon 357,209 km from the Earth) *
Saturday, June 24 (new Moon 357,937 km from the Earth)
Sunday, December 3 (full Moon 357,495 km from the Earth)
Source: https://www.vercalendario.info/en/when/next-super-moon.html 
Just remember, only one of the super moons in 2017 is during a FULL moon, so don't go looking in the sky for a huge moon until December. (I know, bummer, huh?)
* EDIT: Bwahahahaha! May 25 came and went while I was on an 18-day road trip. Oops. Shooting for June 24, then!
* EDIT #2: *Picard facepalm* June 24 was two days before my sister who lives in Egypt arrived for a visit. I was buried in house cleaning and property maintenance and completely missed it again. How can I hope to start a #deaddarlings movement if even I cannot remember to post them!? Oh, the writerly humanity! December 3, here we come!
Save your Dead Darlings in a morgue
If you'd like to participate in this mourning process for dead darlings, I recommend starting a "morgue" file (or Scrivener project) where you collect your dead darlings as you edit. Those beautiful gems that just don't fit the moment, those descriptive passages that slowed down the action too much but who shine on their own like stars. Put them in a little drawer in your writing morgue and save them for the next super moon.
Then subscribe to my blog (or watch my Facebook page) and you'll be notified when I do a Dead Darlings post. Or just mark your calendar for the dates above. Let's mourn together, and celebrate together the (brief) lives of our sparkling word gems.
An editing tip from Nail Your Novel
While we're on the subject, here's an insightful tip from the lovely Roz Morris on recognizing dead darlings: Writers, are you showing off or sharing? A way to kill your darlings.