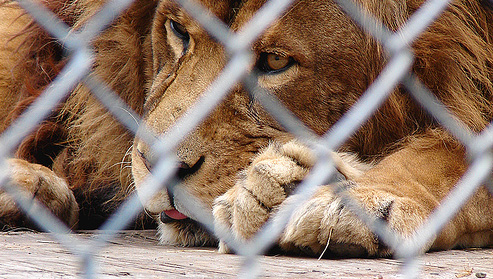 We have missed something. And it is far bigger than any one industry or genre. It is a mindset. A philosophy. A worldview.
Forgive me for an unorthodox metaphor, but I hope it makes the point:
For hundreds of years, we have treated Christianity like some sort of wild game domestication program [tweetthis url="http://clicktotweet.com/6tG91″ size="ttsm"]. Go out, find a human. Snag them, snare them, beat the bushes or put out the bait. Somehow get them to swallow the gospel message: You are a sinner and Jesus gave His life to save you. Confess belief in Jesus and you'll be safe.
Then we explain that they need to live in the Zoo for the rest of their lives or they might get eaten by the other wild animals, or worse — change back into a wild animal themselves.
Weekly doses of spoon-fed medicine and emotionally-soothing pharmaceuticals are promoted as the new way of life. Conformity to some denomination's interpretation of the proper way to think and act are demanded. If you fail, you are accused of being wild still and unqualified for life in the Zoo, much less life in eternity with the Perfect One.
We are asked to eat only Zoo-approved food, consume only Zoo-approved entertainment, talk only to Zoo-approved people (except when engaged in some necessary activity like purchasing groceries or when on a wild game hunt — ideally, you would combine these two).
If we are creatively inclined, we are told our talents are to be used exclusively to make Zoo-approved creations or perhaps to put bread on the table for our family.
No wonder people don't want to be Christians. Who wants to trade the freedom of the wild for the cages of the Zoo? [tweetthis url="http://clicktotweet.com/0N_Tz" size="ttsm"]

What is wrong with this picture?!
We were created as glorious beings patterned after a Glorious Being. As creators made in the image of their Creator. As lovers who ache for their Beloved and are restless until they find their satisfaction in His Love.
We were never meant to live in a Zoo! We were meant to be redeemed and then take that freedom and live it out!
Jesus said "go out into" the world. As we love others like He loves us, our intimate words and deeds full of grace and truth will bring about new births. [tweetthis url="http://clicktotweet.com/Uf8wn"]
Oh, how we have forgotten — or never knew — the very Book whose incorruptible seed brought us new life!
But that's a topic for another day.
Today, I mention it only because our theology is the foundation of all we do once we "become Christians". And the theology we are taught is what shapes how Christians write fiction. And how Christians choose what fiction to publish.
And it is giving the name of Christ a poor reputation.
How do you think our theology is shaping the fiction Christians publish?
Does our theology affect who sees our fiction and what impact it has?
What does Christian fiction do well? Where is it falling short?