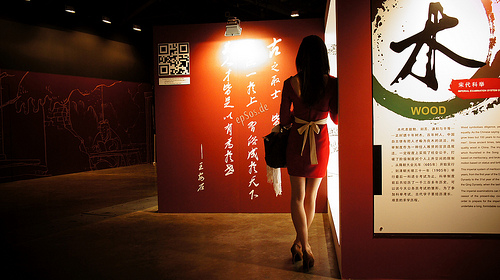 Being human. It's an issue I've wrestled with my whole life. You have, too. Every human being makes decisions about how to approach life. Even the decision to not think about such things and just live by your "instincts" is a decision.
One of the great mysteries of human consciousness (even for science) is why we experience beauty. How is it that our brains are wired such that we perceive some things as beautiful? Sunsets. Butterflies. A horse at a gallop. A towering redwood tree. The nude human form.
Ah, yes. That last one. That one gets tricky. As a human, as a part of the society around you, how will you choose to handle beauty, when you find it? Sunsets and moonrises are "safe" beauty. You can't take the stars from the sky and put them in your pocket to look at later. But horses, humans and even butterflies can be coveted and then made your own, can't they? Sometimes beauty leads to lust, the desire to have something for yourself. We don't ascribe sentience to plants or animals, so most people are at peace with the idea of owning those things.
But what happens when you see somebody beautiful, and you want them for yourself?
It is not beauty's problem. It is ours.
That's the topic of this article in Christ & Pop Culture magazine by Alan Noble, Ph.D.: What I Learned about Lust and Beauty from a Flickr Voyeur.
It centers on how we handle beauty, especially in the Christian church. We have tended to see human beauty as a cause for sin, and sometimes by association as sinful in itself. And thus, a beautiful human becomes a reason for resentment or condemnation, rather than celebration and admiration. This affects our relationships with each other, but also our relationship with the creative arts. I've posted before about the lack of beauty in some Christian art, and I think this is connected.
A quote from
the article that caught my attention:
It may be one of the hardest lessons that I have had to learn, that nearly all my purity efforts were built around denying and even condemning the beauty that God has created. And that's really just the flipside of what the Voyeur was doing. There are powerful forces in our culture and flesh driving us to view one another as bodies to be owned and captured. And unfortunately, there are also powerful forces in evangelicalism and our own hearts driving us to condemn and resent beauty. The church does well to fight against the abusive vision of sexuality promoted and profited off of by the world, a vision which is fundamentally violent. But we also need a richer theology of beauty and bodies, one which will allow us to preserve the purity of our thoughts and to delight in the beauty of God's world.
Read the whole thing here: http://christandpopculture.com/learned-lust-beauty-flickr-voyeur/
How do you handle beauty in your life? Do you run away from it? Cover it up? Try not to think about it? Pursue it? Try to make it your own?
What approach to beauty do you think makes for the healthiest human society?
Drop a comment and let's chat.