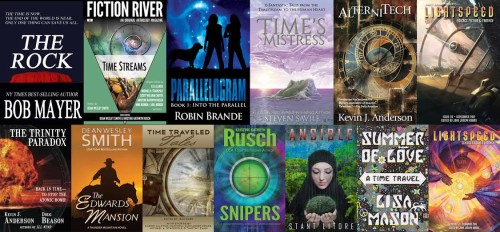 First, the Vital Stats
The Time Travel Story Bundle has a variable price.
Pay at least $5: Get 6 titles
Pay $14 or more: Get 12 titles (including a favorite of mine by Stant Litore!)
If you are bargain savvy, and enjoy sci-fi, this is the kind of deal that will stretch your book dollars and pump your e-reader full of wibbly-wobbly, timey-wimey goodness.
Bundle offer ends April 9 (double check the countdown on the offer page, I might have counted wrong!).
Why? Because Sci-Fi. Because Time Travel. Need I Say More?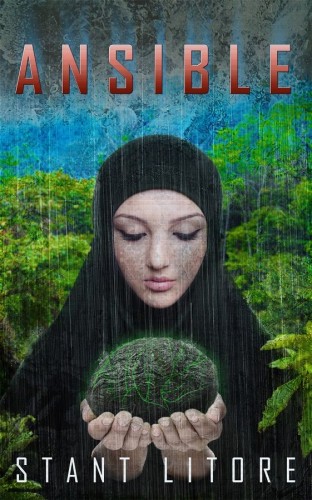 I'm a huge fan of science fiction. Time travel is always a fun (or ridiculous) part of sci-fi, so this bundle of stories looks like a collection that would keep my spring reading hopping. (Get it? Ha!)
The big reason that I am recommending this group of stories is because I've read one of the bonus books — Ansible by Stant Litore. It's a collection of some of the most intense, exotic science fiction I've ever read. And, remember, I'm a fan of the best and the classics. The Ansible stories will take you places you've never imagined, give you a taste of life in the skins of some very strange creatures. And did I mention — the fate of Earth and our universe is at stake?
The rest of the collection looks intriguing. With names like Dean Wesley Smith, Bob Mayer and Kristine Kathryn Rusch, you know there's some top-selling indie authors included. If I skip over some other popular name you love, please forgive me — I don't have the amount of time I used to for reading, so I've missed out on a lot of the great indie stuff out there.
If you're a Doctor Who fan, like me, you might like to pick this bundle up for Steven Saville's Time's Mistress. Steven has written for the DW and Torchwood universes. You can read more about his impressive background and works on his Wikipedia page.
Bite-Sized Sci-Fi
Several of the books included are collections of shorter stories.
That fits perfectly into my sporadic reading schedule. I can catch a story while waiting in line for something, during a park playdate or in a single evening after dinner and before settling in to watch Stargate: Atlantis with my hubby.
Authors: Take a Marketing Lesson from the Bundle
I don't want to miss this opportunity to point out what a great strategy this sort of bundle is for authors, and especially indie authors. Find others whose work shares a readership with yours. Bundle stories together to gain new fans. When you're new, especially, getting people to try your work and enjoy it is paramount.
Participate on blogs and support authors who are more established than you are, and find some who like your work. Then look for opportunities to partner with them for online events like launch parties, book bundles, blog hops and all the other many tactics that gain reader attention.
Sowing Good Seeds
There's something called the harvest principle, or "sowing and reaping", that I find very effective in this existence. Some philosophies call it "karma". When you do good, it comes back to you. You have a chance right now to spread the word about this deal, and sow some seeds towards others sharing your projects. Use the share buttons along the left or click the bird in the quote below to share the quote and link on Twitter.
12 Time Travel stories for $14 or 6 for $5 – Support indie authors and get great scifi! Offer ends 4/9 http://storybundle.com/scifi [tweetthis url="http://ctt.ec/aifYD"]
I'm excited about trying some of the authors in this bundle that I haven't read before (most of them). I might find some new favorites. How do you usually find stories you like? Drop a comment below!