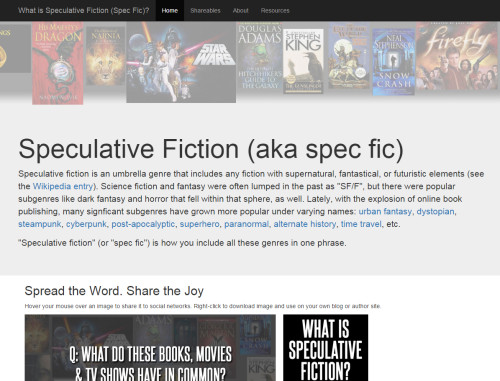 New website launched
Hey, friends! My latest finished project is a simple website designed to answer the question, "What is speculative fiction?" 
Whenever I talk about the movies I like or the stories I write, I use this term "speculative fiction" and many people give me a blank look.
Has this ever happened to you?
If it has, you know what comes next.
Next we have to explain that it's an umbrella term for all the genres of fiction that include fantastical, supernatural or futuristic elements — genres like science fiction, fantasy, dystopian and post-apocalyptic, steampunk and cyberpunk, paranormal and urban fantasy and more.
My goal is to raise awareness for this umbrella genre term and bring it more into the mainstream vocabulary. This site is very basic: it provides the definition of "speculative fiction", it contains a few links to examples and resources, and above all, it offers a few shareable graphics that people can use to join the spec fic awareness movement.
What you can do to help:
Go to whatisspecfic.com and download a free badge (if you are a spec fic author, reader or fan, there's a badge for you!) and post it on your blog. Share the "What is speculative fiction?" graphics on Facebook, Twitter, Pinterest and other social media sites.
Got a better idea?
If there's something you think I could do better, or if you have an idea for a shareable graphic to spread the word, drop a comment below. The more, the merrier!