Would you like the recipe for a legal nightmare?
Fill your blog or website with photos you found on Google Images. After all, "everyone else is doing it"! They do a search, copy the photo and upload it (or link to it) on their blog, and even sleep pretty well at night.
At least until the day that the owner of one of those photos emails them and demands that they remove the photo from the blog.
Being nice folks, they remove the photo. And then the owner of the photo demands "compensation" for the use of the photo. That means $$$!
Yes, you heard me. Someone might actually sue you for money because you took their photo off a Google Images search (or anywhere else you found it online) and put it on your blog.
And they might even win in court. Because what you've done is a violation of copyright laws.
Copyright Law, The Bare Bones
Who owns the photos we see online? Do you have to register them with the U.S. Copyright Office for them to be copyrighted? When you post them online, aren't you giving up your rights? Good questions. The answers may not be what you think.
When you take a picture, you own the photo. You own the copyright — that is, the right to copy it. It doesn't matter if you put a copyright notice on it or whether you register the copyright with the U.S. Copyright Office. You own the copyright, and anyone who uses that photo, copies that photo (in print or digitally), without your permission has violated copyright law.
It doesn't matter if you posted it to Facebook.
It doesn't matter if you posted it on your blog so the whole world could see it.
Unless you specifically give permission, no one else may legally display (copy) it.
Check out Copyright Basics from the U. S. Copyright Office for more detailed info. For easier reading, see 10 Big Myths of Copyright Explained, by Brad Templeton, director of the Electronic Frontier Foundation. Copyright law is a HUGE topic, and there are a lot of people getting away with a lot of violations. And there are many people who don't care if someone uses their photo, so they aren't defending their own rights even if they see a violation. You should do your own research on this and decide whether you want to risk a costly lawsuit. The chances may seem slim that someone will actually go that far, but technology is making it easier and easier to track down copyright violations. I wouldn't risk it, myself.
"Isn't Using the Photo on My Blog Considered Fair Use?"
No, it is NOT "fair use". There are four aspects that courts consider when looking at whether or not something is "fair use" (see the U.S. Copyright Office website page on Fair Use and also their Fair Use FAQ). Here's the tricky part: the lawyers get to decide on whether your use of the photo was "fair use" in regards to those four elements. I'm no legal expert, but I've heard enough sad lawsuit stories to be convinced that using a photo you found on the Internet without getting the express permission of the owner is NOT considered fair use.
If you like digging deep into legal matters, check out Stanford University's Copyright & Fair Use site. I'll be honest, I didn't read far into that site. Way, way easier to simply take the high road and stay away from pushing those boundaries.
Oh, and by the way, a disclaimer on your blog like this one won't really protect you, either:
"THIS BLOG claims no credit for any images posted on this site unless otherwise noted. Images on this blog are copyright to its respective owners. If there is an image appearing on this blog that belongs to you and do not wish for it appear on this site, please E-mail with a link to said image and it will be promptly removed."
People have been sued even when they had the disclaimer AND immediately removed the photo in question when the owner requested the removal.
Taking the High Road
So, if you search your heart and decide you are not a low-down dirty photo thief, what can you do to find photos for your blog?
Take your own photos and use them.
Get written permission from image owners to use their photos (time consuming and tricky — sometimes it's hard to find the true owner).
Purchase photos from stock photography websites (sometimes as little as $1 – $4 per image).
Use photos that are specifically licensed for sharing with others (more on this in a moment).
While I'm being honest — which of course I always am, so perhaps I should say, while I'm humbly revealing my own faults, I admit that my personal philosophy regarding copyright and fair use is at times hit-and-miss. I am a child of the Internet age. There are a lot of things I think I should be able to quote with attribution without having to contact the owner directly for permission. While I am against stealing, I believe properly attributed quoting or copying is not only fair use, but also free advertising for the creator of the work and hardly worth complaining about. Sharing and linking to information is at the heart of the Internet culture, so sometimes I may stumble. If you catch me off the high road and wandering the byways of thieves, please be gentle when you point it out.
My Favorite Solution: Finding Photos Licensed for Sharing
Guess what? A bunch of people out there are sharing their photos with the world! There are several sites you can find photos that are licensed for bloggers to use freely.
And my current favorite: Flickr.
However, not all Flickr photos are licensed for sharing. Here's how you find the ones that are:
1. Go to Flickr advanced search.
2. Scroll down to the Creative Commons section and put a check mark in the box for "Only search within Creative Commons-licensed content".


I also usually put a check in the box for "" because some of my websites might have ads or other income-generating features that might put them into the category of a "commercial" use.
3. Once you find a photo you like, just click the Share button at the top and select Grab the HTML/BBCode.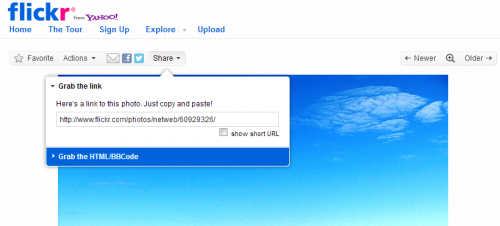 Verify again that the license allows you to use it (sometimes you may follow several links after doing your search and end up on a photo or different person that is outside your search specifications). When you click on the words "Some rights reserved", it will tell you clearly that you can/can't use it. (Use your "Back" button in your browser to go back to the photo.)
4. Click "Grab the HTML/BBCode" and choose what size you want.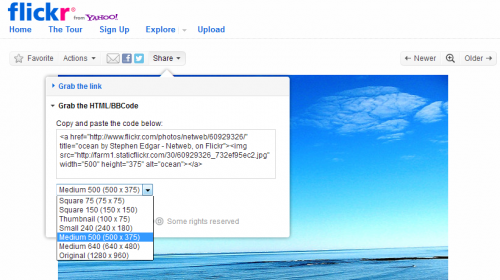 Medium usually works well, depending on the layout of your blog. Then copy and paste the code into WordPress (you have to use HTML mode in your post) and you're done. The code generated by Flickr automatically gives credit back to the proper person and everything.
NOTE: To use HTML mode, click on HTML in the upper right corner of your post's editing area (see screenshot below).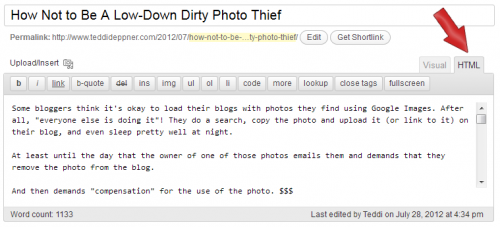 Conclusion
Don't be a low down dirty photo thief.
And if you've been one, turn from your wicked ways and check out the online treasure trove of photos licensed for free use!