Stats show that blogs with images attract reader attention better than those without. But how do you find images that can be used without risking a lawsuit for violating the copyright of the original owner?
I posted a while back with some tips for using Flickr and Wikimedia Commons to find images free for bloggers to use in their posts. Now I have two more great tools.
Zemanta WordPress Plugin
Searching Flickr and Wikimedia Commons yourself is still a fine way to do it, but this Zemanta plugin makes it even easier! It "reads" your post and then recommends a batch of images that might relate. You can also refine the search terms yourself. Then inserting the image is a breeze, and Zemanta even gives it the proper caption with photo credit.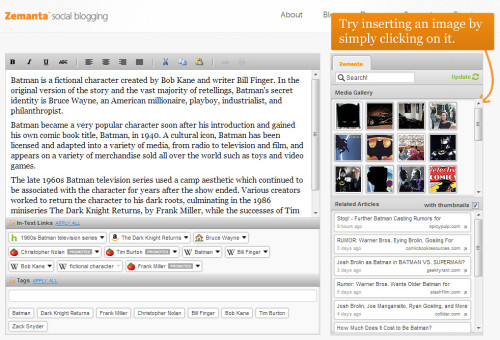 Zemanta's website is confusing, so we're just going to ignore it. They focus their website copy on other features of their plugin (generating related posts), but using their demo made it clear that it really does what we want for related images.
Download the Zemanta plugin (or use your WordPress dashboard and search for "Editorial Assistant by Zemanta"). You can even use it as a browser extension instead of installing a plugin (same download link)!
Related offsite article: HOW TO Improve Your Blog Posts and Save Time with Zemanta

What if you think you've found the perfect image, but you're not sure whether somebody owns it or what its license terms are? TinEye lets you upload an image or paste an image URL and it searches billions (yes, billions) of images to try and match any other occurrence of the image. See the TinEye FAQ for more info.
As an artist or photographer, you could also do a search for your own images and see who is using them without permission. Personally, I think I'll skip this step for now. Not sure I want
to know. Heh.