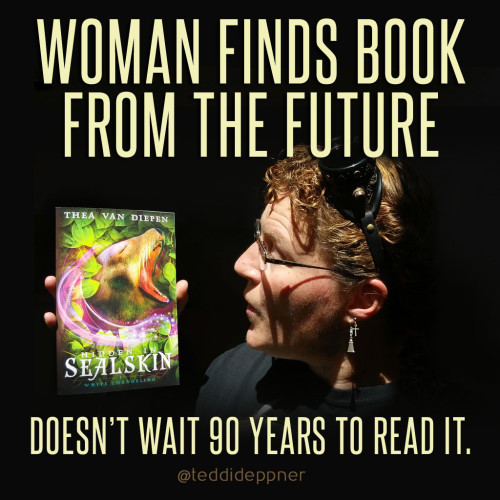 You didn't know those big brown delivery trucks could do that, did you? Neither did I! But sure enough, this book is from the future. I checked the copyright date.
Okay, okay…
If you think something fishy is going on, you're right. More of a sea mammal than a fish, but it smells fishy, anyway. I was already excited to receive my very own copy of Hidden in Sealskin by my colleague Thea van Diepen, but a simple slip of the keys made this copy all the more special. You see, the copyright date is the year 2105.
That's 90 years in the future!
She explains all about it on her blog, Expected Aberrations. In fact, her post is a great example of turning a negative to a positive. I've had such fun telling my friends about my "book from the future". I even ripped open the package right in front of the UPS guy and showed him!
Photoshoot antics
In capturing a photo of myself with Thea's book, I ended up with too many fun photos to leave them languishing on my hard drive. Enjoy!
(P.S. If you were expecting "funnier photos" here, I'm so sorry! The old system I had for emailing my posts did not display photo galleries, so you would only have seen the top photo below. But guess what? The new system via Aweber actually includes them! Honest, I wasn't just trying to lure you here for some nefarious purpose.)
If you thought this was funny…
Spread the joy! Share the top image (or any image) with your peeps on social media and link to Thea's post (http://www.expectedaberrations.com/the-day-i-discovered-id-written-a-book-from-the-future/) or to her book (http://amzn.to/1FAkHdH).
(Edit 4/11/2016:) Book Review
Check out my review of Hidden in Sealskin on Amazon.com.
Also, check out my review of Thea's next release: The Tree Remembers.