Today I'm going to tell you how toy photography lit up my soul during a dark time of transition. I've been letting go of a satisfying self-identity as a beloved web designer, a problem-solver, a techie geek who knows All The Answers. At the same time, I've been trying not to fall into the trap of embracing some new label that will simply change again someday in the future. Mid-life crisis? Some might call it that.
Enter toy photography.
Little People Who Lit Up My Soul
It started with Lego brand mini-figures. They encapsulate the joy of childhood. My son is an avid Lego builder, and I enjoyed photographing his creations (which I had to do quickly, before he changed them or dismantled them completely to build something else!).
These photos are from 2014. I began to realize that toy photos could be little stories, and my imagination is always set on fire by stories. Suddenly photography, which I had long enjoyed, didn't require sweeping horizons, exotic locales or even the "golden hour" (although those things are still very nice).
I could do this in my house. At a restaurant. On a road trip! It became the perfect mobile hobby, and something that I could make uniquely my own. Anybody could take a photo of a sunset. But you don't see sunsets featuring toys every day. (Well, unless you're into toy photography. Then you see it all the time. But even then it's not my toys creating my story during my sunset.)
The Star Wars Fandom Re-Ignites In My Heart
Another factor that came barreling into our lives around the same time was the new installments of the Star Wars saga, and the animated TV show Star Wars Rebels.
In 2016, we got a little Lego Kanan figure, and I was so taken with this stylized Lego version of a stylized animated character that I took photos of him and made him my profile picture on Facebook.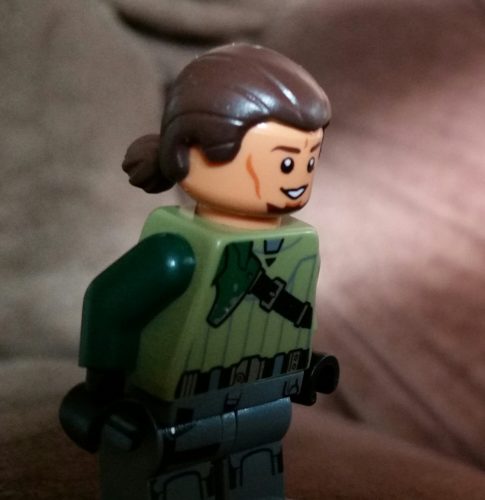 As the animated series unfolded, I grew to deeply admire this almost-Jedi-knight who provided calm in the chaos, forgiveness after poor decisions, leadership for tumultuous teens. He was kind, gentle, and steady. He was also a fierce protector and a determined soldier when he had a mission. He helped others at personal cost. He laughed and told corny jokes. He was humble, yet possessed remarkable powers.
I bought a Kanan action figure from the Star Wars Black Series
line of toys, and once again everything changed.
The Miraculous Transformation Happens In Your Brain
Some of my friends look at these photos and shrug. "So what, it's a toy. Why are you taking pictures of a kid's toy?" The first pictures in this post are exactly that: I was taking pictures of my kid's toy. Not really artistic, not really compelling.
But I knew more was possible. So I studied what made some toy photos speak to me more than others. As I grew my skills, the pictures of toys became snapshots of a character in action. Subtle cues of head tilt, body language, and focus began to reveal the character's attitude, convey emotion, suggest thought.
And then one day I took a shot that triggered a change in my brain. I wasn't seeing a toy anymore. I was seeing the world through the toy's eyes. I was seeing the world through Kanan's eyes.
That, my friends, is one of the miracles of toy photography.
Toy Photography Resources
Here are a few of (honestly, I have so many other faves, there are so many amazing peeps out there!) my favorite toy photographers' Instagram feeds:
If you'd like to learn more about toy photography, participate in toy photo challenges, and explore some active toy photo communities, try these: