Sometimes I get so busy doing things I forget that part of the reason this website exists is to share with my friends what I'm doing! After Realm Makers in August, I was re-inspired to get moving on my vision for the #SpecFicCollective — a virtual community of speculative fiction authors who work together to market their work.
The Website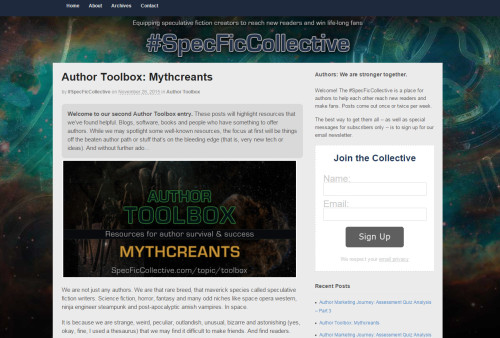 Launched in September 2015, I've managed to keep up a consistent publication schedule (which is something of a first for me, at least when it comes to personal projects). It started as once per week, but now goes twice a week.
Topics covered include things that circle around author branding and marketing. Finding your readers, making new fans, learning who you are and how to describe your work in ways that set expectations and attract the right audience. After years in Internet marketing helping small businesses get online and understand how to do these things for their companies, I find skill set well-suited to the changes in the publishing industry. I love explaining things and hope very much that someday, somehow these articles will help my author friends find success in matching their stories with their audience.
The Brand Materials
When I launch a website, a few basic pieces of supporting brand material are needed. At the barest minimum used to be a logo and tagline. Nowadays, I add to that a Twitter header, Facebook cover and site favicon. For most of my personal projects, I also include a basic color palette, a font (or two) and a general style or some imagery.
The materials aren't perfect. I used to agonize over and spend a lot of time getting things as perfect as possible. And honestly, they weren't much better than this, even when I spent more time. I'm not satisfied with the SFC logo. I expect the background theme and imagery will be modified every year or so just because a fresh look is, well, refreshing.
But guess what? I shipped it. And that's the theme of this year for me, in a lot of ways. Taking ideas and putting flesh on them, launching them into the world and giving them a chance to live in the wild to see if they survive.
The Future
I'm working to get the foundational content onto the website. In Spring 2016, I hope to launch some of the more interactive aspects of the site and encourage true community to grow around the concepts. Tentatively, this may include things like regular video conferencing or webinars and downloadable resources that encourage small groups to form and apply the collaborative marketing strategies together.
Someday, I hope that hundreds of thousands of speculative fiction authors will carry in their heads the framework of understanding that I'm passing along. Delusions of grandeur, much? Why, yes. This isn't just about fleeting tactics that will change as technology changes. This is about creative people understanding who they are and how it impacts what they create. Teaching them to see their work within the context of a life well lived and a career in creating that lasts. Showing them how to relate to each other in ways that help everyone — authors, readers, cover artists, and more. Taking what I've learned from others and passing it along through the unique lens that is my experience and insight.
Community is Essential
I am not alone. I exist and travel this journey of life and publishing within a community (several communities, actually) of like-minded individuals. I predict that 5-10 years from now, there will be many stories about failed attempts and fantastic successes as we apply the ideas shared on the #SpecFicCollective site. I look forward to hearing about the successes and I hope to offer comfort through the failures even as we all learn from them together.
Creating art and sharing it with others. There's nothing like it. And when you do it side by side with others on the same journey? Priceless.