(Last updated Feb 16, 2023.THANK YOU to every commenter who lets me know when Amazon has changed their interface or who shares a great tip.)
I'm the type who reviews my credit card statements and reconciles them with my receipts and online orders. Occasionally I run into puzzling issues and end up calling the vendor or credit card company to verify, clarify or challenge a mysterious charge on my bill. However, I hate wasting time on a customer service call (or chat), and would much rather solve the mystery myself when I can.
The Problem: Reconciling Credit Card Statements with Amazon Charges
Have you ever had a charge from Amazon.com on your credit card that doesn't match any orders around the date that your card was charged? I've found a few common situations — and some ways to verify them without the bother of contacting Amazon customer service. This post is a way for me to remember the tricks I discover–and to share them with the world. 'Cause I'm generous like that. You're welcome.
The Easiest Way to Find Charges Matching Your Credit Card Statement
For the longest time, I looked up orders under the "Returns & Orders" link. But that interface is frustratingly missing crucial information, like actual credit card charges. Amazon's latest twist is to put that useful information under Your Account > Your Transaction. The interface changes slightly all the time, but scroll down on the Account page, and you should see something like this: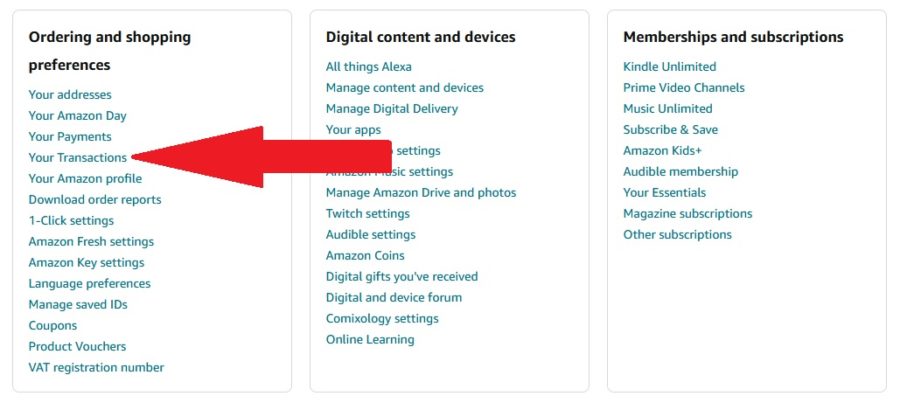 You'll find all the credit card charges and use of gift cards listed by date with most recent at the top.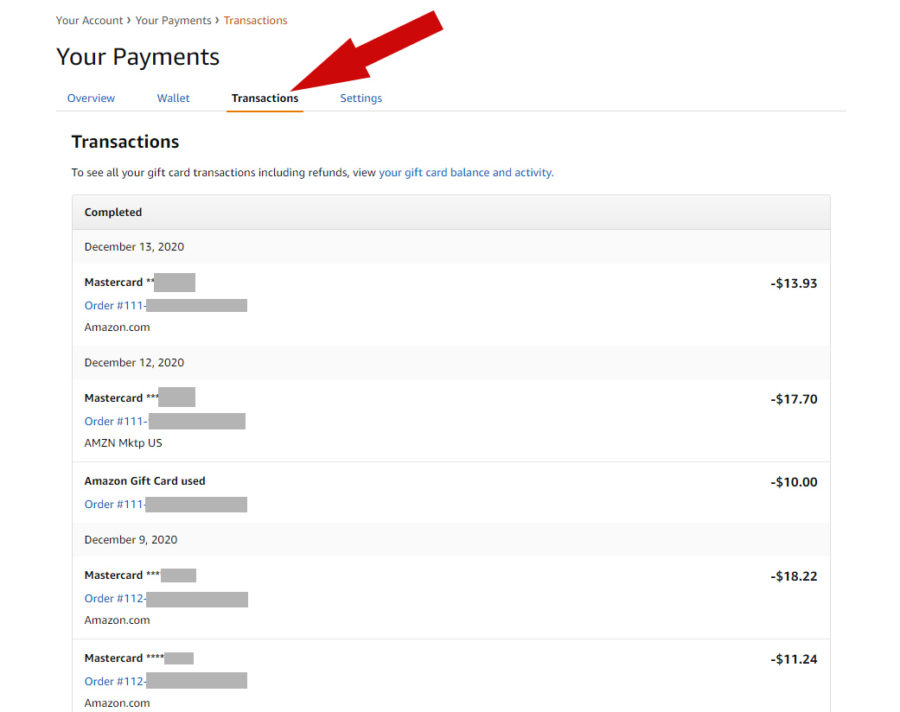 Watch for Split Shipments
Occasionally I still get stumped. One day I was looking at a charge of $12.86 and when I clicked on it, it took me to an order that didn't seem to match at all–it was for $34.30. I checked the order numbers and they matched. But it didn't make any sense. Why was there a $12.86 charge listed but the order summary was for $34.30?
I almost didn't see the Transactions link just below the order summary. When I clicked on it, it displayed the list of separate transactions and dates.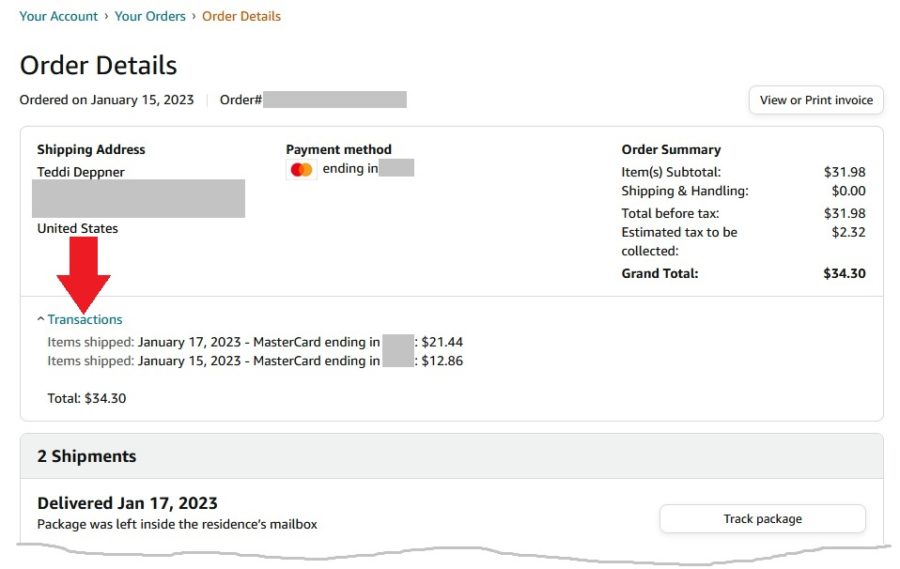 Backup Strategy
(Post edited 10/30/2019 to add this tactic:) I've been updating this blog post for several years since I first posted it, as Amazon keeps changing their interface. In the end, this simple workaround is the most reliable way to get the information I need quickly:
Save every Amazon order shipping confirmation email that you receive.
Archive the emails if you want them out of your inbox, but save them. And then, when you find a rogue transaction from Amazon on your credit card statement, search for the exact dollar amount in your email archive. When you find it, the email should contain a link to the order details in your Amazon account (sadly, the emails don't currently list the items and details), which you can use to verify things.
Download Your Entire Amazon Order History
If you want to see your entire order history and charges for your Amazon account, they have an obscure feature: Request My Data. This used to be available under Your Account as "Download Order Reports", but now (updated Sep 2020) it's no longer available that way.
Use the dropdown to request data about Your Orders.

This will generate an email confirmation. When you receive the email, click the link to confirm your email address and generate the report. It says that it can take up to a month to receive the report (that's awful!) but the first time I tried it the data was available the next day.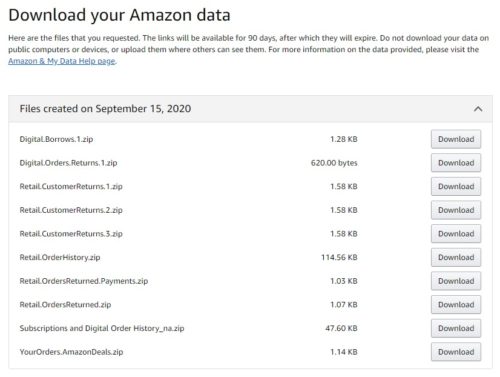 Amazon provides the data in several .zip files, each containing one or more .CSV files (you can use MS Excel or Google Sheets to read them). After scanning through these files, here's what I found:
The data download seems to contain every order for the entire history of my Amazon account (years of data).
Retail Order History and Subscriptions and Digital Order History seem the most useful.
There does not appear to be a column of data with the actual charge total, which I find astonishing. They list the item cost, the tax, the shipping cost (if any) — but don't offer a total. So you can't just search for the charge amount. Instead, use the charge date to find a similar shipping date and search the surrounding entries from there. This limitation (and the delay while waiting for the data to be delivered) is why I prefer keeping my Amazon confirmation emails and searching for the charge amount in my email archive.
If this data download doesn't help, you can resort to Amazon's email, phone or chat support options.
Was this helpful? Buy me a coffee!
One of my kind commenters suggested that I offer a way for you to show your appreciation if this information helped you. Feel free to drop a few bucks in the donation jar!
I'm still a fan of Amazon.com
It's not fun to find mysterious charges on your credit card statement. I hope this helps someone (or myself in the future) when troubleshooting an unknown charge from Amazon.com on a credit card.
That said, I really enjoy the convenience and excellent service that Amazon provides, and when I do need to get help from their customer service, I've always been impressed with their responsiveness and willingness to please me.
Have a tip to add? There are some good ones in the comments below, so keep reading if the above didn't help!